Influencer marketing will be a crucial part of your marketing strategy in 2022. We live influencer marketing every day, so much so that we often forget that not everyone knows what it is!
This blog post will write about all you need to know about choosing the best influencer for your business in 2022.
What is Influencer Marketing?
Influencer marketing is a strategy that mainly concentrates on using some key leaders to lead your business to the larger market. In addition, you hire some influencers.
Influencer marketing often goes with two other forms of marketing: social-media marketing and content marketing. Most influencer campaigns have some social-media component, which is expected to spread the word through their social channels.
Click to Read More about Influencer Marketing.
 Why is Influencer Marketing going to be Important?
Influencer marketing changed the way we buy things forever. Approximately 67 percent of marketers report that they are engaged in influencer marketing. Influencer marketing is shifting toward more simple solutions. Tools like match-making platforms services, influencer networks, and even programmatic help brands tap influencers more easily.
Conventional digital marketing no longer works. About 66 percent of customers are broken up by excessive online marketing messages. About 20 percent of consumers would boycott a brand because of outrageous ads. Unlike traditional ad campaigns, marketers should care about influencer content because it provides the perfect cure for "ad fatigue" and delivers authenticity.
Influencer marketing goes past reach instead of diminishing returns from digital advertising, brand social, and content marketing. It clicks to ongoing engagement and conversations that drive commerce and match with your business purposes.
Consumers do not want faceless sales executives who use the same old tricks anymore. Marketers can't ignore the importance of influencer marketing. Content creators can drive business growth. Imagine thousands of voices having authentic conversations about your brand that hold sway in a way your voice alone never could. That's the power of influencer marketing.

8 Criteria to Find the Perfect Influencer for Your Business
Just because an influencer has lots of followers does not make them the perfect one for your job. The research for the perfect candidate should take various criteria into account.
Context
Your influencer marketing will be successful if the topic and the influencer are matched. No one will hire a food influencer to market sportswear.
The Number of Followers
Influencers are divided into two groups according to the number of their followers:
  Macro Influencer: Macro Influencers have tens of thousands or hundreds of thousands and even up to millions of followers. Often they are well-known personalities.
  Micro-Influencer: Micro-Influencers have, depending on the definition, a few thousand or even only a few hundred followers. Usually, Micro-Influencers will cater to a specific niche.
Micro-Influencers are gaining more and more importance in social media marketing. They may not have many followers, but these are usually very loyal and highly interactive. Micro-Influencers are in close contact with their community. Also, they are usually more reliable than the stars of their industry. This causes much higher engagement rates than the ones of Macro Influencers. Also, Micro-Influencers are cheaper than their famous counterparts. But even bigger companies are working with Micro-Influencers. Many businesses choose a mixture of Micro- and Macro Influencers, with some campaigns solely focused on a large number of Micro-Influencers.
The number of influencers' followers should not be the only deciding factor. Finally, what is the use in hiring a star with millions of followers if they are not interacting with their followers?
Demographic Data of the Community
It is essential to take the interests of the follower's community into account: it should fit your company or brand. After all, you don't want to reach just anyone, and you want to contact your target group. Influencer marketing platforms will show you valuable data like:
  Age
  Gender
  Place of residence
  Languages
  Interests
  Occupation
Marital status or the brands they are interested in should be considered. Combined, all those factors will give you a pretty clear picture of who you can reach when deciding on a particular influencer.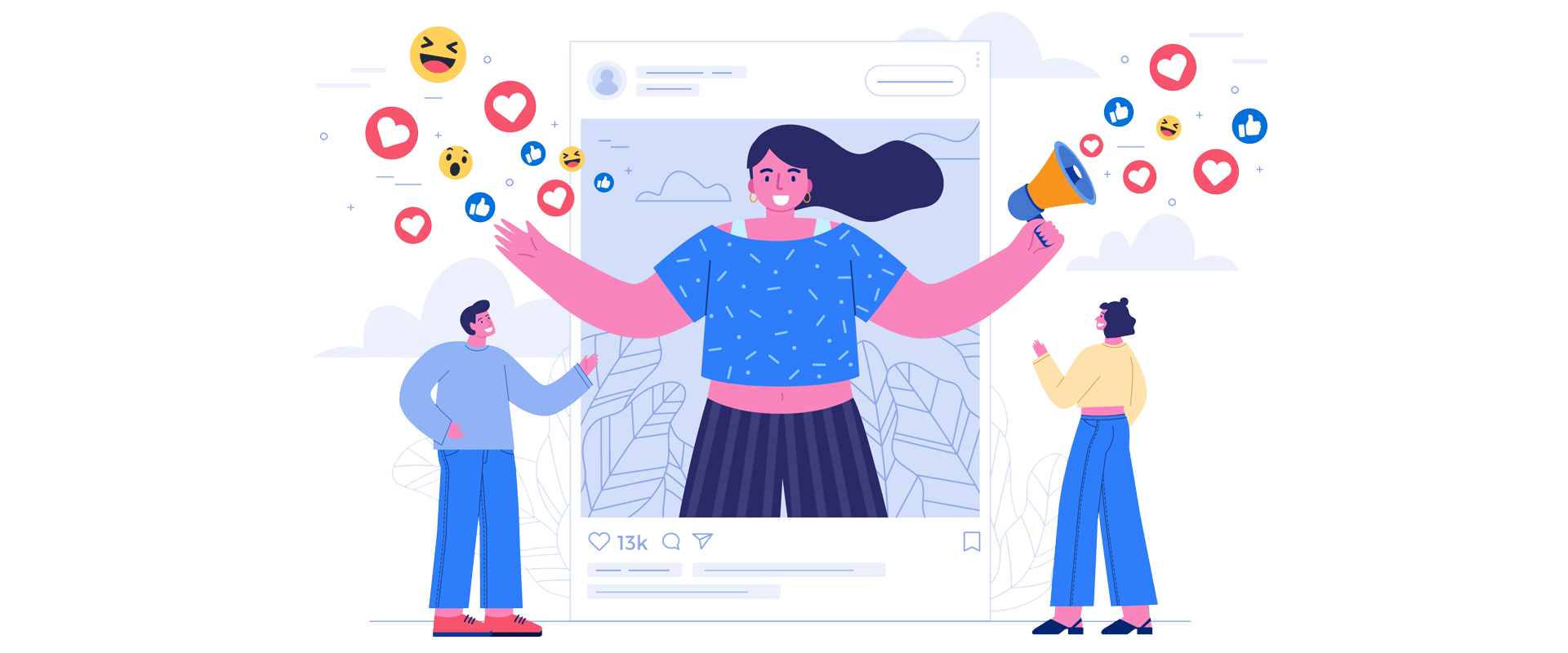 Engagement Rate
As mentioned before, one metric is more important than the number of an influencer's followers: the engagement rate. It tells you how an influencer's followers react to their postings, e.g., by leaving a like or a comment. This makes the engagement rate a vital clue on whether the followers are interested in the influencer's post.
The engagement rate is evaluated in percent over a more extended period. But what is an ideal engagement rate number for an influencer in social networks? The answer depends on the number of community members: the more followers, the lower the engagement rate.
Quality
Quality beats quantity. Instead of just looking at the data, you should look at the posts already published by your selected influencer.
Pay attention to the following points:
  Quality of the content
  Values
  Style
Editorial and Promotional Content
The credibility of an influencer will fade quickly if they promote products at an hourly rate. Ensure a good balance between editorial content and content, placing brands or products in the spotlight. The followers' comments will indicate whether an influencer is overdoing it and is considered spammy.
Good Connections to other popular Influencers
Is the influencer well connected with other opinion leaders in social networks? This would be suitable for spreading the postings on your brand far beyond the web of the influencer. This is why you should prefer well-connected influencers.
Personality
The personality of an influencer is so essential. Reliability, honesty, and professionality are crucial prerequisites for successful influencers. The character of your selected influencer also determines how their followers perceive them.
The fact that influencer marketing is more than just a fad is universally accepted now. But it is essential to find the best influencers. But where can you find the best influencer? How can you assure that they are the best ones? Are the number of followers and reach the only vital metrics, or are there other essential criteria for this choice?
PurpleZ, as a top Influencer Marketing Agency in Irvine, implements the best marketing strategy for Southern California small to mid-sized businesses. We implement an influencer marketing plan with growing marketing platforms and micro and nano influencers. Influencers are intertwined with brands to create sponsored posts and ads with the potential for virality.
If you are eager to use influencer marketing to grow your business do not hesitate to Contact Us.
Sources:
Influencer Marketing. Tapinfluence
https://www.tapinfluence.com/blog-what-is-influencer-marketing/
Hieb, F. 8 Criteria to Find the Perfect Influencer for Your Brand. Swat
https://swat.io/en/strategize/8-criteria-finding-the-right-influencer/