Irvine's No.1 Unique Content Development Services
Our content development services provide a comprehensive approach to creating and delivering the best content for your needs. We craft engaging, high-quality content that resonates with your audience and drives results.
Our team of experienced content developers are highly skilled in creating content that meets your goals and objectives. We have the expertise to help you craft the perfect content for your needs.
Whether you need content for a website, blog, or social media, we can develop content that meets your unique requirements.
We take quality assurance seriously. Our content developers use the latest tools and techniques to ensure that your content is of the highest quality. We guarantee that your content will be accurate, relevant, and engaging.
What we do
2023 Content Development Services for Southern California Small Businesses
PurpleZ, as a content development services provider in Irvine, creates, redesigns, optimizes and develops a website. We give all Southern California website owners great ideas to decide who, what, where, when, how, and why of your overall content creation plan. We do SEO research, copywriting, graphic design, social media marketing, email marketing, advertising, and the like for each content we create. You can choose the frequency of blog posts, podcasts, or video content in a month and email marketing.
Content marketing pricing packages are designed to address the complex needs of businesses seeking content strategy, content creation, and content amplification solutions. Companies can easily pick and choose from a medley of content marketing pricing options based on the size and scope of their website presence, the number of desired content assets that need to be created, or a market value charging model for managing paid content amplification. The comprehensive nature of the Pop Results content marketing pricing packages allows an organization to outsource their entire content marketing workflow or select services individually.
PurpleZ's Content Development Services in 6 Steps
Content development and content marketing are used interchangeably. It is the process of creating content for a website from start to finish. Some companies manage the writing process, but we focus on strategizing, publishing, and promoting. We implement the right strategy for developing good content because we believe that appealing content gets you so far. We use 6 and sometimes 7 steps of content development from gathering information to review and repeat.
This involves creating a plan that outlines the topics, goals, target audience, and desired outcomes of content.
Reviewing and editing the content to ensure it is accurate, consistent, and free of errors.
Distributing the content through various channels to reach the target audience. This can include social media, email, and other forms of digital marketing.
Generating the actual content. This can be done through interviews, articles, blog posts, videos, etc.
Optimizing the content for search engines and making sure it is easy to read and understand.
Tracking the performance of the content to measure its success and identify areas for improvement.
Frequently Asked Questions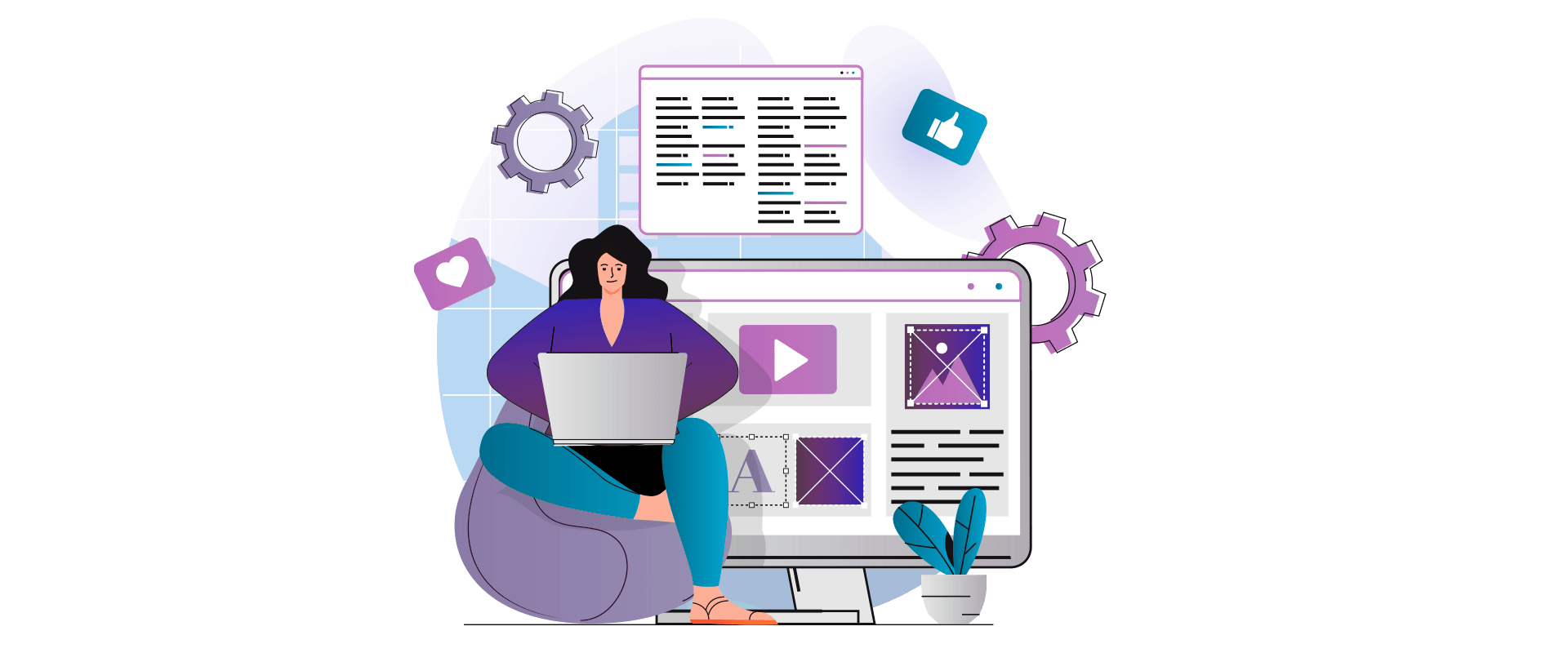 If you've ever had to create content for your company, you know how time-consuming and difficult it can be. Not only does it require a lot of research, but many people need help writing in an interesting and engaging way. That's where content development services come in! We take the burden off your shoulders by creating compelling content that gets people talking about what you do and who you are as an organization.
What is content development?
The process of developing content for a website or blog is known as content development. It is distinct from content marketing, which is producing and sharing worthwhile content that your target audience will enjoy.
Content development isn't just one thing–it can be done by a company or individual, in phases, and with different goals in mind. And while some people think that writing is the only part of content development (and they're wrong), others think it's everything from research through SEO optimization and publishing on social media sites like Facebook and Twitter.
Why do companies need content development?
Content development is a crucial part of the digital marketing process. It's the backbone of your website and should be treated as such. Content can be used to convert visitors into leads, customers, and advocates for your brand–so you must have the plan to create it consistently.
Content helps establish credibility with new audiences by providing them with useful information about who you are and what makes your company unique. It also serves as an introduction to both potential customers/clients and employees (if applicable). When done correctly, the content will improve customer service by answering questions before they're asked, so fewer requests come into customer support teams; this frees up time for those workers' other responsibilities, such as sales calls or product development meetings instead!
What is the process of content development?
The process of content development is a three-stage process. The first stage is the idea generation phase, where you will develop ideas for your content. The second stage is the research phase, where you research your topic and gather information. Finally, there's the writing and editing phase, where you write down all your ideas organized and edit them so that they make sense to readers who are not experts in your industry or topic area.
How much does it cost to have a company create my website or blog?
The cost of your project will depend on several factors. The most important variable is the complexity of your website or blog, how many people are working on it, and how much time they need to spend on it. If you're looking for something simple with little customization, you can expect to pay less than someone who wants something more involved and customized.
We do not charge by the hour but rather set up an estimate based on our experience with similar projects in the past. We will provide this estimate once we have reviewed your requirements and answered any questions that may arise during our initial consultation call or phase 1 meeting. Please view our price table above this section.
In addition, various levels of expertise are required for different parts of a project, so we will let you know which level best fits what we do at [your company name].
Will my project be done in time?
It would help if you communicated with us regularly to guarantee that your project will be completed on time. We want to ensure that we're meeting all your expectations and working within the budget you've set aside for this project.
We understand that you're looking for a solution to your content needs, and we want to ensure you get the best possible results. Our team has over ten years of experience creating websites and blogs for businesses like yours. We can help you develop a strategy that will grow your audience while helping them find what they need to make informed decisions about their lives.
FEATURES
Content Strategy
Keyword Analysis
Idea Research
SEO Optimized Content
Copywriting
Editing & Proofreading
Grammar & Spellcheck
Content Formatting
Blog Posting
Video Creation
Content Quality Check
Content Marketing
Content Promotion
Social Media Promotion
Content Optimization
Testimonials
What our clients
say about us.
Full Service Marketing Services
"We have a great business relationship with PurpleZ. We had worked with several other marketing companies in the Los Angeles area in the past who didn't deliver results and I'm happy to say PurpleZ is doing that. They help bring our vision to life in a way that makes sense."
Strategy + Creative + Marketing
"Talk about going above and beyond what we asked for and then a true partner, a professional team to satisfy all our needs taking the time to explain every strategy that was implemented. Great job, couldn't have made a better choice to handle our marketing!"
Creative + Content + Marketing
"PurpleZ has been instrumental in helping us build an incredible lead generating machine. Everyone at PurpleZ that I've met has been extremely helpful, using their experience to navigate a clear path to a successful digital marketing plan."
Winning awards for our designs and strategies is one of our constant goals. In the end, it boils down to one thing: passion for our work.
Orange County Best Software Company Badge
Best Marketing Agency Orange County California Award
Google Analytics Certified Partner
Purplez best sem companies Award