Your Path to Success
Strategic Marketing Firms in Orange County
Explore how Purplez Marketing Agency can supercharge your business with strategic marketing in Orange County. Learn about our 4-step strategy, and claim a free marketing consultation today!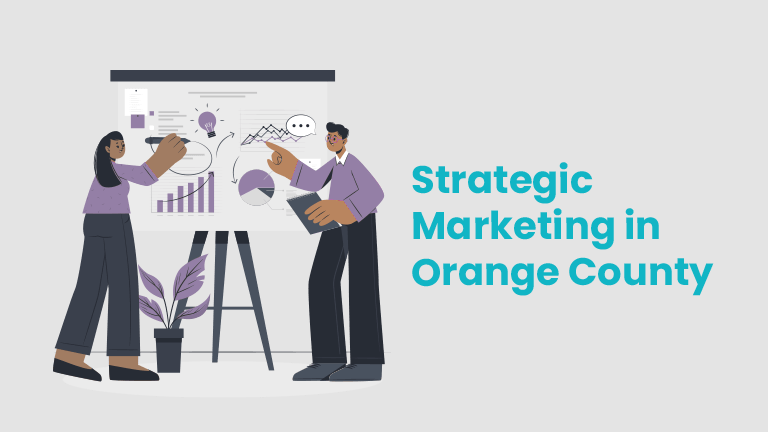 With years of experience serving businesses in Orange County, Purplez Marketing Agency has established itself as a trusted partner for companies of all sizes. We understand the unique challenges and opportunities in this vibrant business community, and we're here to guide you every step of the way.
Our commitment to delivering exceptional results has earned us a reputation as one of the top strategic marketing firms in Orange County. Whether you're a startup looking to make your mark or an established business seeking growth, Purplez Marketing Agency has the expertise to drive your success.
Our 4-Step Strategy in Achieving Higher ROI for Your Business
Comprehensive Market Analysis
Before we embark on any marketing campaign, we conduct an in-depth analysis of your target market, industry trends, and competitors. This invaluable insight forms the foundation of our strategy.
Tailored Marketing Plans
One-size-fits-all solutions don't work in marketing. Purplez Marketing Agency customizes marketing plans to suit your business's unique needs, ensuring maximum impact.
Data-Driven Optimization
We don't rest on our laurels. Through continuous monitoring and data analysis, we fine-tune your campaigns for optimal performance, ensuring your ROI keeps growing.
Transparent Reporting
You'll always know where your marketing dollars are going. Our transparent reporting keeps you informed about campaign progress and results, fostering trust and accountability.
Importance of Strategic Marketing Firms
Strategic marketing firms are important for hiring businesses, as they can help your business grow and reach its goals. These companies employ a range of techniques to assist you expand your consumer base, strengthen your brand, and connect with prospective customers.
Strategic marketing firms provide different services depending on the needs of their clients. Some agencies offer basic services such as advertising campaigns, while others focus on more specialized areas like branding or social media management.
Benefits of Strategic Marketing
Strategic marketing is a process that helps you understand your customers and develop strategies to meet their needs. It's also known as integrated marketing, which includes all of the ways you can communicate with your audience–from social media to advertising to public relations.
Strategic marketing helps companies identify and reach their target audiences through customized campaigns that improve brand awareness and sales conversions. Here are some other benefits:
Increase revenue by identifying new markets or opportunities for existing products/services
Reduce costs by eliminating wasteful spending on activities that don't generate revenue (like most advertising)
PurpleZ's Approach to Strategy
PurpleZ's approach to strategy is unique. A good strategy should be rooted in the client's business objectives and built on data-driven insights, not creative flights of fancy. The process we use to develop your marketing plan is proven, with each step carefully considered so you can be confident that it will deliver results for your business.
PurpleZ has helped hundreds of companies across industries like software development, eCommerce, and digital marketing find new ways to grow their businesses by delivering innovative strategies based on data-driven insights and deep industry expertise.
What Sets PurpleZ Apart
PurpleZ is a strategic marketing firm focusing on the intersection of strategy, design, and technology. These three pillars are essential to creating an effective marketing strategy for your brand.
Our team will work with you in order to develop a consistent image for your product or service through branding, design, and messaging strategies so that customers can readily understand how you differ from other businesses in your industry.
Our extensive experience in analytics allows us to optimize online campaigns based on past performance data collected from previous campaigns, as well as real-time customer behavior tracking tools such as Google Analytics or Facebook Insights (and many others). We then use these insights and our creative expertise when developing new content strategies on both owned channels like websites/blogs and paid channels such as social media ads (Facebook/Twitter), where we can target specific demographics based on geography, location, interests, gender, etc.
Onboarding Process
When you work with PurpleZ, we want to get to know you. We want to understand your business and what makes it unique. We'll ask questions about your products or services but also about the people who use them–what they like, what they don't like, and why they buy from you instead of someone else.
This process aims to create a plan based on real data about what matters most in the marketplace for both customers and competitors alike. The result is an actionable strategy that aligns with the needs of both parties: customers get what they want from companies like yours; Businesses satisfy the particular needs of their target market at affordable rates without compromising on quality or service standards (or revenues)!
PurpleZ's approach to strategy is different from other marketing firms because it takes a holistic approach. For your brand to succeed, you need a strong foundation built on a solid strategy. This means focusing on what you're selling and understanding who your audience is and how they interact with the world around them.
Claim Your Free Consultation Today!