OC #1
Display Advertising Services
to Display your Brand
With display advertising, you can target customers based on their interests, demographics, and location. This helps you to reach the right audience for your product or service.
Display advertising helps to build brand awareness by providing a platform for your message to be seen by a large audience.
Display advertising is a cost-effective way to reach a large audience and can be tailored to fit most budgets.
Display advertising is easy to track and measure, allowing you to adjust your campaigns as needed.
Display ads can be used on many different platforms, giving you the flexibility to reach your target audience in the most effective way.
What we offer
Display Advertising Services for Southern California Small Businesses in 2023
Want to Display your Brand to Your Target Audience? Let's Go
PurpleZ, as a top Display and Video Advertiser in Irvine, offers unique display advertising services for Southern California small to mid-sized businesses. In our display marketing, we design compelling and straightforward ads in the form of images, banners, videos, buttons with messages communicated clearly to the audience. We distributed them on websites, apps, and social media platforms. Then we assess display ads using metrics such as impressions, CTR, and conversions. We keep up with the latest display marketing strategy to distinguish your business in the competitive market.
Bronze
2 Ad Placements
Basic Analytics
Static Ads
Basic Targeting
Monthly Reporting
LET'S GET STARTED
Silver
4 Ad Placements
Detailed Analytics
Animated Ads
Detailed Targeting
Weekly Reporting
LET'S GET STARTED
Gold
8 Ad Placements
Advanced Analytics
Interactive Ads
Custom Targeting
Daily Reporting
LET'S GET STARTED
2023 PurpleZ's Display Advertising Services Strategy
At this stage, a display advertising campaign is planned, including objectives, budget, target audience and ad formats.
Ads are placed on websites, apps, and social media platforms.
The creative assets are developed, including images, videos, banners, and other visuals.
Ads are monitored and optimized for performance, such as clicks, impressions, and conversions.
Display advertising services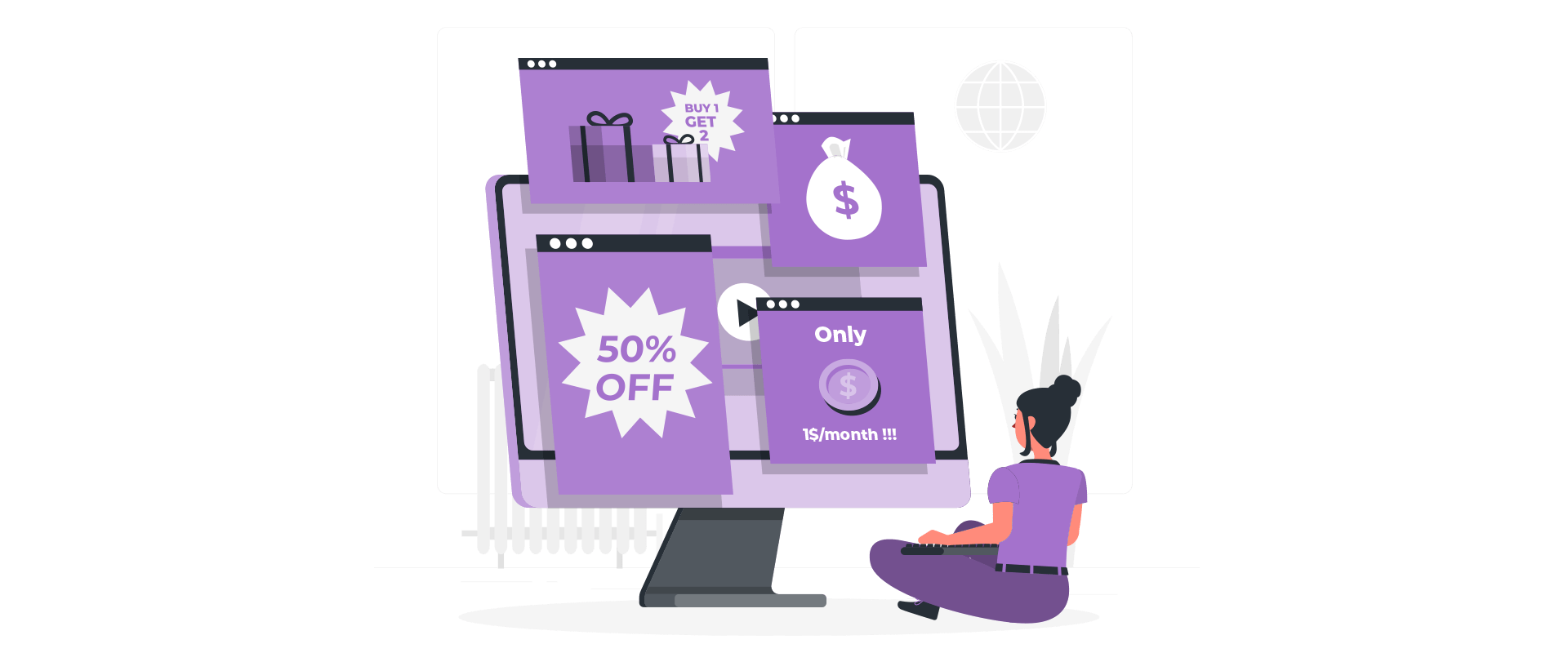 Display advertising is a form of advertising that allows an advertiser to place text and images on a website or in a mobile app. Display advertising is one of the most commonly used forms, especially for companies that want to target their ads at specific demographics.
Display advertising services are a form of advertising that is presented in a variety of ways.
Display ads are often used by companies that want to reach new customers or re-establish their brand image after a crisis (such as a product recall).
The three most common forms of display advertising are:
Banner ads: These rectangular boxes appear at the top or side of a web page. They usually contain an image and some text, but sometimes they can be an image alone.
Online video ads: These are videos that play automatically when you visit a website, in much the same way as you might expect to see on television or in cinemas (though usually shorter).
Native advertising: This form of advertising is designed to look like other content on your page so it doesn't stand out as an advert from another brand.
Online banner ads are one of the most common forms of display advertising.
Online banner ads are a visual element on a web page, usually an image that appears alongside other content on your site or another publisher's site. Online banners can be static (meaning they don't change) or animated (meaning they do change), and they can take any shape–rectangular, circular, or square.
Banners can also be used to promote products and services being sold directly through the site where they're displayed; however, most often, they're used by advertisers to drive traffic back to their websites so people can learn more about whatever product or service they're selling online.
Google AdWords is one example of an online banner ad platform.
To use Google AdWords, you must create an account and select your campaign type (display, search, or video).
You can create multiple campaigns within each campaign type if you have the budget.
Once your campaign is set up, you can start placing ads online by selecting keywords relevant to your business or brand, then selecting appropriate websites where those keywords appear frequently.
The cost per click (CPC) determines how much money you each time someone clicks on your ad will cost; this CPC varies depending on whether someone sees it on their mobile device vs. desktop computer screen, so keep this in mind when setting up your bids! You'll also want to track results from all these efforts–this way, you know which types work best at driving customers into stores!
Display ads have been around for a long time.
Display ads, or banner ads as they're more commonly known, have been around since the beginning of advertising.
They can be in print or online and are often used to promote a product or service. Display ads are also used to promote brands and companies; for example, you may see them on your favorite website's homepage promoting their latest sale at the store down the street.
However, they aren't limited solely to commercial purposes: many people use display ads as an opportunity to advertise their business location. If you've ever seen an ad in a magazine featuring an address with contact information next to it (such as a phone number), then you've seen this type of display ad!
The first known advertisements were handbills posted in public places.
 These were used to announce events, promote local businesses and inform the public about sales or charity drives. Handbills were printed on paper and posted on walls, trees, fences, and other public places.
In the 18th century, advertising grew more sophisticated, with newspapers being used to reach more people. Some ads even included illustrations!
Display advertising can be very effective if done properly.
Online banner ads are one of the most common forms of display advertising, and Google AdWords is an example of an online banner ad platform. Display ads have been around for a long time; they were used as early as 1837 by The Times newspaper in London!
With new technologies like Google AdWords, you can reach more people than ever before with your message.
What are display and video advertising?
Display advertising is defined as advertising a product or service through visuals like images and videos on the Google Display Network and Facebook.
What is the goal of display and video advertising?
Display and video advertising aims to attract the audience of a website, social media platform, or other digital mediums to take a specific action using an image or video ads.
This kind of advertisement awareness-raising digital channels.
What are the benefits of display and video advertising?
Display and video ads are highly targeted,
They are visually appealing and eye-catching
They convert sales
Display and video ads do well among people watching videos on mobile devices
They are the best educational tool because they involve an audiovisual sense.
Google loves video and display ads and prioritizes video content when making tweaks to the algorithms
Video ads tell your stories better than other types of ads
Your customers watch more display and video ads. Stats show that about one-third of buyers will purchase a product after viewing video ads.
Want to hire us to create your display advertisements? Contact us Online and call us at +1 (800) 213-7303
FEATURES
Display Ads
Ads Targeting
Ads on Mobile
Ads on Desktop
Ads Tracking
Ads Optimization
Ads Performance Reports
Ads Automation
Ads A/B Testing
Ads Retargeting
Ads Scheduling
Ads Budget Control
Testimonials
What our clients
say about us.
Full Service Marketing Services
"We have a great business relationship with PurpleZ. We had worked with several other marketing companies in the Los Angeles area in the past who didn't deliver results and I'm happy to say PurpleZ is doing that. They help bring our vision to life in a way that makes sense."
Strategy + Creative + Marketing
"Talk about going above and beyond what we asked for and then a true partner, a professional team to satisfy all our needs taking the time to explain every strategy that was implemented. Great job, couldn't have made a better choice to handle our marketing!"
Creative + Content + Marketing
"PurpleZ has been instrumental in helping us build an incredible lead generating machine. Everyone at PurpleZ that I've met has been extremely helpful, using their experience to navigate a clear path to a successful digital marketing plan."
Winning awards for our designs and strategies is one of our constant goals. In the end, it boils down to one thing: passion for our work.
Orange County Best Software Company Badge
Best Marketing Agency Orange County California Award
Google Analytics Certified Partner
Purplez best sem companies Award